Monday, October 10, 2022 to Tuesday, October 11, 2022
Musée Granet, Aix-en-Provence, France
Location
Musée Granet
Place Saint Jean de Malte
13100 Aix-en-Provence
France
Program
Monday, 10th October (09h00 - 17h30)
09h00 - 10h00: Breakfast (coffee and croissants)
10h00 - 12h30: Materials analytics workshop

Olivier Proux (ESRF, OSUG): FAME & FAME-UHD French Spectroscopy beamlines at the European synchrotron: Actual and future performances

Thorsten Hüffer (University of Vienna): Leaching of additives from (micro-/nano-) plastics

Jerome Rose (CEREGE, Sustainable environment group): National platform for Imaging and Analysis to Guide Innovation addressing the Environmental and Energy transition 

12h30 - 14h00: Lunch on the museum patio
14h00 - 15h30: Call for Proposals World Café, Round 1: Table topics round robin. Download background papers here.
15h30 - 16h00: Break (coffee)
16h00 - 17h30: Lightning talks
20h00: Dinner in downtown Aix-en-Provence at Restaurant La Mado, 4 Place des Prêcheurs, Ph. +33 -442 38 28 02. See the map below for walking directions.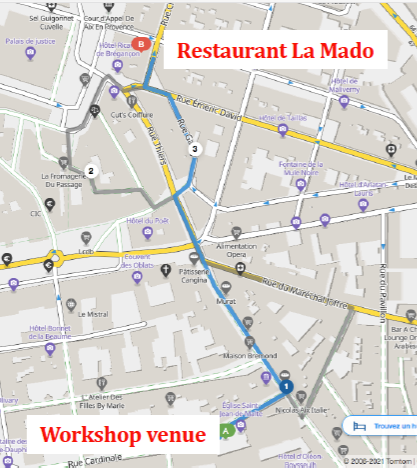 Tuesday, 11th October (08h30 - 17h00)
08h30 - 09h00: Breakfast (coffee and croissants)
09h00 - 10h30: Call for Proposals World Café, Round 2: Self-identified breakout groups by table topic
10h30 - 11h00: Break (coffee)
11h00 - 12h30: Materials informatics workshop

Willie Peijnenburg (RIVM): Overview of different perspectives on informatics in material sustainability as perceived within the NanoinformaTIX project. 
Giulia Mancardi (Politecnico di Torino - Energy Department): Molecular modelling based descriptors for material properties.
Alicja Mikolajczyk (University of Gdansk and QSAR Lab): Modelling the features which drive the fate of engineered nanomaterials in aquatic exposure media.
Gianpetro Basei (GreenDecision): The Sustainable by Design Informatics Platform.

12h30 - 14h00: Lunch at a restaurant in downtown Aix-en-Provence
14h00 - 15h30: Call for Proposals World Café, Round 3: Breakout group report-outs and whole group feedback 
15h30 - 16h00: Break (coffee)
16h00 - 16h30: Private tour of the Musée Granet
16h30 - 17h30: INFRAMES leadership meeting
20h00: INFRAMES leadership dinner in downtown Aix-en-Provence at Restaurant Le Riad, 21, Rue Lieutaud, Ph. +33 -442 26 15 79. See the map below for walking directions.
Logistics
Traveling to downtown Aix from the airport:
By bus: Shuttle bus line 40, departs every 30 minutes outside the terminals (see map below). Fare is 10 € to downtown Aix. There are 2-3 ATMs in the airport. There are vending machines at the airport bus terminal that you could use, and you should be able to pay the fare with your credit card onboard the bus; drivers typically don't speak any foreign language like French or English. Expect a 45 minutes ride to Aix.

• By taxi: The taxi station is just outside the terminals. Usually, there are short or no lines at all. Fare should be around 60 €. Not all taxis accept card payments; so please make sure your cab displays the usually credit card logos to avoid unpleasant surprises when arriving at the hotel.

• By prepaid ride: Usually a bit pricier than a taxi, no credit card issues (you pay in advance), will wait for you inside the terminal. Book via a simple google search with "taxi pre-payé" or "VTC Aix en Provence"; sites usually have an English version (note: VTC is basically an Uber but nicer).
Traveling to downtown Aix from the TGV train station:
By bus: Shuttle bus line 40, departs theoretically every 15 minutes (same shuttle as the one form the airport); if the bus is at capacity coming from the airport, it won't stop at the train station, and you'll have to wait 15 minutes longer). Fare is 6 €. No ticket vending machine, only one ATM on site on the opposite side of the station (see map). Buses depart from the basement of the station. Ride to Aix is typically 35 minutes. You can download the schedule for the shuttle at: https://www.lecaraixmarseille.com/_files/ugd/ef29c5_a45a2eac48814fe1a11f24d571e6428b.pdf?index=true.

By taxi: The taxi station is outside Hall B, where you'll most likely be arriving. There's only a limited number of taxis because of the tiny waiting area that they were given. Fare is typically 50 €. Again, a decent proportion of taxis won't take card payments.

By prepaid ride: See above (same process as traveling from airport).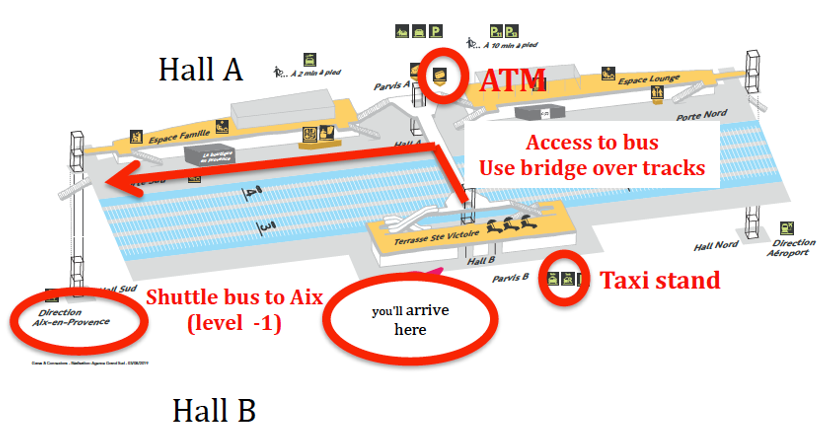 Recommended hotels:
Getting around in Aix:
If you followed the advice to pick a hotel downtown, you're all set. Everything is within reasonable walking distance is Aix. There's the downtown area surround by a beltway easily identifiable by the amount of traffic on it. We trust you booked your stay within that area as suggested, and everything you need is within a 10-15 minute walk. If you hit the beltway, just turn around and follow what google maps tells you.
If your hotel is outside the downtown area, you may need to use local public transportation. Ask your hotel about the closest bus stop. The website for Aix city buses is https://www.aixenbus.fr (only in French). According to this site you can pay for your ride (1.20 €/ride) onboard with a Visa or Master Card with NFC capabilities (i.e."contactless"). In case your card doesn't have NFC, you'll have to buy tickets from the tourist office, authorized vendors (both closed on Sundays) or the few vending machines the bus company operates. The closest to you on arrival would be next to the fountain at the end of the Cours Mirabeau (the main street in Aix, with bars on one side of the street and ATMs on the other side).
What to do in Aix:
If you arrive before Sunday, there are plenty of choices; just check with the tourist's office (https://www.aixenprovencetourism.com/en/) located at 300 Avenue Giuseppe Verdi (a few steps from the big fountain on Cours Mirabeau).
If you arrive on Sunday almost everything will be closed. Forms of entertainment are the bars and restaurants downtown, and there might be 2-3 convenience stores in that area.
Emergencies:
For the real emergencies, the Europe wide number is 112 (medical, fire, police).
Local service in France: medical is 15, fire dept. and medical is 18. By default dial 18.
Be aware that these numbers are staffed with people who might speak only basic English. Please seek assistance from your hotel staff.
Power (voltage):
Voltage in France is 220 V. If you're traveling from the UK or overseas, you'll need an adapter for the plug.
Contact
Mélanie Auffan
auffan@cerege.fr